Do you know ?
Useful Tips 4us !   日本語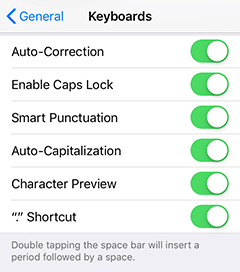 Keyboard Setting (English)
iPhone & iPod touch Tips
Keyboard Setting
iPod (Music) Control
Scroll to Top


Trouble Shooting

Pick Up Accessories

Please Share


educare_4us
Update : 24 Feb. 2011
iPhone & iPod touch Tips
Easy to Scroll

You can easy to scroll icon View, when you tap around red circle.
Just try to tap this position.
Pause of Loading...
You can pause downloading App, when you tap the icon.
(But small size of app cannot pause of download. )

Lock of Rotate
To: iPhone 3GS/4 & iPod touch (iOS 4) user,
When you want to Lock of Rotation.

Just Double tap Home button, and slide left end.
Just tap Lock button.

When it locked, you can see it on top right.

How to no select the Guess Word
I am wondering how I don't use Guess Word.
I finally find out. Here is the way.

Keyboard Select Easily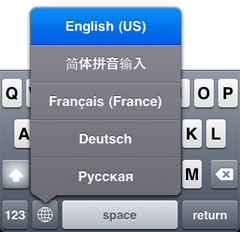 To: iOS 4 user,
If you are choosing many keyboards, you can select easily to hold down long time on world key.
Then Keyboard Select List popup on display.
And you just select keyboard which you want to use.


Zoom Up Screen
When you want to zoom up screen, just set up Zoom On from General > Accessibility. Then just Tap screen with 3 fingers.
(Programmer Mr. E told me this tips.)
Stop Music Quickly
When you pull out ear phone jack, iPod music stop during listening.
Input with Apple Keyboard
To: iPhone & iPod touch user,
Apple Keyboard keys are worked to input, when you release the key!
I mean that if you miss tap the key, just slide finger to correct key.
So the key works when you touch up (release).

Shutter of Camera App
To: All of iPhone user,
Shutter button works, when you release the button!
So you just hold shutter button until you find nice moment, then you release the Camera button. (Have a nice photo !!)
Keyboard Setting
When you use Easy Mailer Spanish & English, Please turn on "." shortcut at the keyboard setting . You can easily input "." by double tapping the space bar. (see left Screenshot)
iPod (Music) Control
I am using this setting.
If you setting as left screenshot, you can control music with our 1Hand series apps & Easy series apps.
This can be use during iPhone & iPod touch is Lock. (Just double-click the Home Button.)
by Nakane
Safari Scroll to Top
When you are browsing Safari and scroll down, you can easily to go back to top by tapping Navigation Bar.
---
Trouble Shooting
( iPhone & iPod touch )
First thing to do
When you have trouble with any application, please restart iPhone or iPod touch. If the trouble is still there, erase trouble application and reinstall or download the application.
You tried above of that. And still have trouble with the application, please report to the developer.
---
Pick Up Accessories
iPhone Stand
iPhone Paper Stand
Copyright (c) Educare All Rights Reserved.