Our Fav Apps
There are many interesting Apps !   日本語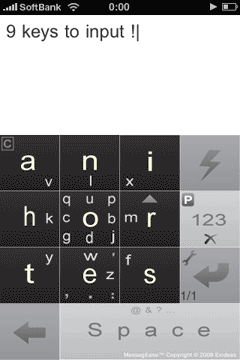 Screenshot of "MessageEase"
Application Series

1Hand URL Free
1Hand Keyboard Series

Easy URL Free
Easy Keyboard Series

Please Share


educare_4us
This page will be updated on the 15th of each month.
Update : 8 Jan. 2010
Pick Up Application
Nakane's Pick up Apps

Amazing movement ! "Marbling" is one of my fav Graphic App !
This is Free version.


Interesting Keyboard Apps
We like our Apps, but there are many interesting Keyboard Apps !!

It's really interesting that you can change the size of the original keyboard in this "Agile Text".

Another interesting keyboard with only 9 keys - it's sliding a finger to input letters with this "MessageEase".
Copyright (c) 2009 - 2019 Educare All Rights Reserved.