Phone Pad Mail Keyboard
We made this for Mobile Phone user !   日本語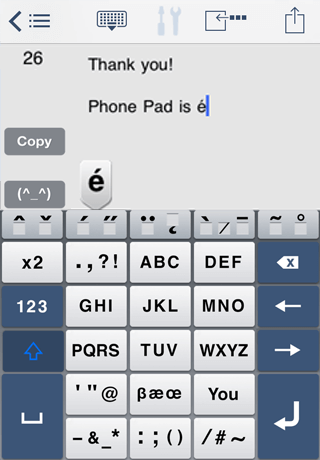 Application Series

AEI Keyboard URL Note
1Hand URL Free
AEI Keyboard Note Series
1Hand Keyboard Series

Easy URL Free
Easy Keyboard Series

Please Share


educare_4us

Phone Pad Mail Keyboard
for iPhone & iPod touch.
Phone Pad Mail Keyboard Download at App Store

Please try Free version "Phone Pad URL Keyboard Free" first.
Phone Pad URL Keyboard Free - 4us

*THIS KEYBOARD IS NOT APPEAR OR WORK IN OTHER APPS.
(All developer can not show own keyboard in other app)
Phone Pad Key !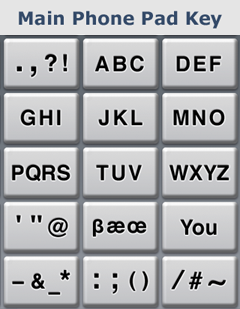 You can type with one-hand as mobile phone!

If you miss type for input text, please try this.

*This keyboard works only in this app.



SPECIAL FEATURES:
* Ideal key size that reduce probability of typographic errors

* Easy to type Spanish, French, German, French, Italian, Portuguese, Swedish, Dutch, Rumanian, Danish / Norwegian (eg. á ö ñ ø è â ç å β æ œ ì ñ ö ü ú, etc)

* Useful keyboard Settings (touch the "tools" icon for setting): ➢ Auto determination of character typed with multi-input key
(eg. When "ABC" key is typed once, the character "A" will be determined automatically after certain time interval, which is adjustable at the "tool" menu. This means you can type the same character continuously without using the right arrow key)
Copyright (c) 2009 - 2019 Educare All Rights Reserved.